WKI Magazine Entertainment Article #7
Candice Michelle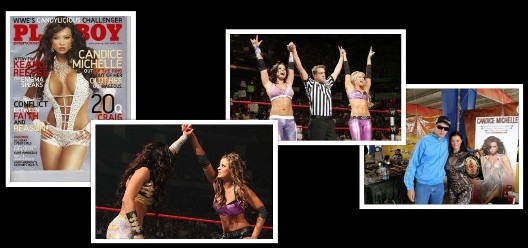 I recently had the privilege of interviewing former World Wrestling Entertainment Women's Champion, Candice Michelle. She is a lifelong wrestling fan who got to live her dream and hopes that she can inspire others to reach for their dreams or accomplish their goals in life.
Candice grew up in Milwaukee, Wisconsin, and grew up watching wrestling. At 8 years old, her stepfather, Ken, surprised her with tickets to a World Wrestling Federation event. They got great seats to the show where Candice got a high-five from one of her heroes: Hulk Hogan.
Candice was inspired by watching The Ultimate Warrior, Hulk Hogan, and Miss Elizabeth every week on television, being like superheroes to the young Candice Michelle. She was an avid athlete, played varsity sports and even college basketball.
At sixteen years old, Candice won a modeling competition at her local skating rink, and around 1999 she moved to Los Angeles to become a professional model and actress. She studied theater arts at Santa Monica College.
In the summer 2004, Michelle auditioned to be a contestant for World Wrestling Entertainment's Raw Diva Search. Despite not being chosen to be in the final ten, the company liked her so much that they decided to hire her. After a few years of hard work in the company, on June 24, 2007, at WWE Pay Per View Vengeance, she got her shot at The World Wrestling Entertainment Women's Title against her rival Melina Perez. Candice defeated Melina by pinfall that night and made all her childhood dreams come true. She followed up with wins over wrestling greats like Lisa Marie Varon, Jillian Hall, Lita, Torrie Wilson, Mickie James, Beth Phoenix, Katie Lee Burchill, Maryse, and Natalya.
Candice loves to inspire others to pursue their dreams especially children she does a lot of public speaking and encourages kids and teens to pursue their dreams and to work toward them. Since her first win, she became a role model to many women and children around the world.
After hearing Candice Michelle's heartwarming speech, I felt inspired to start writing this story. She made so many eyes light up with hope that many of the people in the large crowds almost started to cry. I swear, you could feel the inspiration by all the people who were in attendance.
I asked Candice what it was like being a professional wrestler on television for the whole world to see her, and she told me it felt so surreal, it had a whole Superhero feeling to it, and that she enjoyed being a role model to children everywhere.
Besides wrestling, Candice appeared in many body building and car magazines, including Flex and Lowrider Magazine. On TV, she was in a controversial Superbowl commercial in Superbowl XXXIX, as the original Ms. GoDaddy.com girl. She has also appeared on the Howard Stern Show, Ripley's Believe It or Not!, The Tonight Show with Jay Leno, American Chopper, 4 episodes of Family Feud, 2 episodes of Project Runway, Entourage, Monk, and 24 Episodes of Totally Busted. Some of the movies she has appeared in include Dodgeball: A True Underdog Story, Tomcats, and Living the Dream.
Candice is married to well-known and respected chiropractor Ken Gee Ehrlich, the "Good Chiropractor." They have three daughters named AkiAnne Rose, Ryumi Grace and Aloha von Ehrlich.