WKI Magazine Entertainment Article #29
Sarah Booth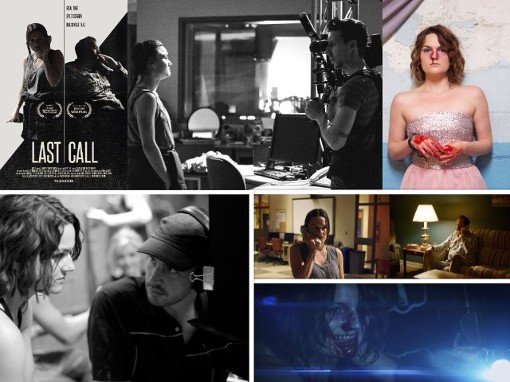 WKI Magazine Interview
with
Sarah Booth
Actress/Producer
WKI MAGAZINE: What made you pursue a career in the film industry?

SARAH BOOTH: I didn't originally think that acting was a career when I was younger. I always enjoyed the spotlight and performance. Dancing, public speaking, equestrian competitions...
Then in high school I performed the starring role in a musical and was hooked. When I learned I could go to post secondary school for it that's when my idea of pursuing an acting career really kicked in. After theatre school, I was quick to realize that one of the best paths to finding opportunities is to create them yourself. That's when I began producing film and theatre projects for myself.

WKI MAGAZINE: Tell us what it felt like to be both in front and behind the camera on "The Scarehouse"?
SARAH BOOTH: It was never intentional. I auditioned for the film like anyone else. However being married to the director, as he was writing the story outline and discussing it with me, we found that collaborating was really easy and elevating each idea and character. Once we were in production, we were short handed, as indie films often are. I was able to step in and help in many departments as needed. To be honest, having a producing hat on relieves the stress of acting and helps pull me out of my own head. More specifically, on The Scarehouse, I was able to work on daily rewrites with Gavin. What it really taught me is how an actor on a movie is really just one grain of salt in a big salt shaker of people making it possible.
WKI MAGAZINE: What has been your favorite role so far? Is there a character that you have played that closely resembles you in any way?

SARAH BOOTH: The two answers are the same character: Helen in the Waterworld Live Stunt Show at Universal Studios Hollywood theme park. It is like my childhood. I grew up with the boys, playing in fields and riding horses. The physical demands of the role are my favorite and it is fun to work in a recurring show for so long. I have learned so much about myself as a performer. Playing Helen thousands of times has taught me thousands of lessons about Sarah. It is far different from the traditional film and TV set experience as an actor.

WKI MAGAZINE: How are the dynamics when working on projects with your husband? Is it easy to separate business from personal?

SARAH BOOTH: There's a separation?! Our lives are consumed by our dream chasing, our creative endeavors and our work projects. Even when we aren't working on a project together directly we are often assisting one another. Gavin might help me with learning lines or an audition or editing my reels and I might give notes on music video edit, read his scripts for feedback or you'll find us out at events networking together. We really enjoy working together. We respect each others ideas and talents and so far, seem to know how to utilize them into creating projects that strengthen us both as artists. I don't crack under pressure during production and have the ability to think outside the box to solve problems.
WKI MAGAZINE: Are there projects in the works that you would like to discuss?


SARAH BOOTH: Currently we are on the festival circuit with a film titled "Last Call". It is the story of a desperate man looking to end is life who accidentally calls my character. She has to make a choice to try and use this one phone call to change his mind. The film was shot in a single take, no edits at all. It was a real acting challenge to say the least. Next up from that is "Saving Alex" a Lifetime movie I starred in that wrapped recently and will air in the fall.
WKI MAGAZINE: Is there a genre that you would choose over any other, if you had a choice?

SARAH BOOTH: Action. Action has drama. Action has suspense. I love the physicality of it. It sort of wraps up all my loves into one. Who doesn't want to kick ass and chew scenery?
WKI MAGAZINE: What languages do you speak? How has it helped your career?
SARAH BOOTH: French and English. Yes, it has helped. Right out of theatre school the first project I booked was a single episode of a French Canadian series called 30 Vies. I play a bilingual character on it and the one episode turned into 30 over two seasons. I've also been able to work in commercials speaking French.
WKI MAGAZINE: Tell us something that most people don't know about you?
SARAH BOOTH: I grew up on a farm in a small Canadian town, Ormstown, Quebec. I was a total tomboy and grew up working on farms. If I wasn't an actor, I'd probably have become a truck driver like my father.
For more information on Sarah Booth, check out her website at: www.sarahfilmbooth.com