WKI Magazine Entertainment Article #31
Kelly Haynes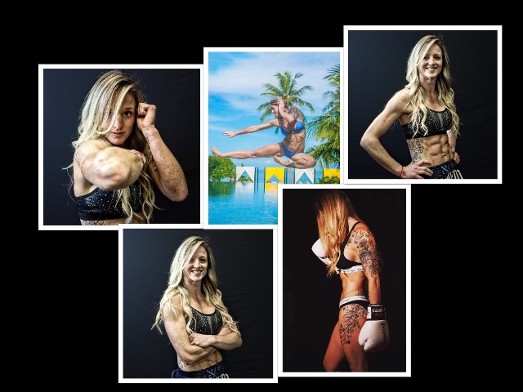 WKI Magazine Interview
with
Kelly Haynes
World Champion MTGP British Title holder
WKI MAGAZINE: When and why did you start training in kickboxing?

KELLY HAYNES: I started KB when I was 10 years old, I stopped 2 years later at the age of 12 and didn't start back until I was 30years old.
WKI MAGAZINE: Who was your motivation in Martial Arts?
KELLY HAYNES: My coach made me feel Motivated, I wanted to do well for him due to how much He believed in me.
WKI MAGAZINE: Tell us about your Martial Arts "Women of the year: award?
KELLY HAYNES:The amount of charity and non profit organisations projects I've supported throughout 2019 was recognised by British martial arts awards, one of the judges in particular run a schools for students with disabilities, one of the Students had been bullied throughout secondary school and was in the process of doing her GSCES, I was supporting her through her studies with regular messages and a support chat group that was set up for her. I invited adaptive martial arts members down to our gym to do a seminar and train them to keep them focused with there training, giving them Incentives to train. The young lady who was raising a big concern over her state of mind completed her GSCE's, we encouraged her ways to change negative situations / bulling into positives situations and memories of happiness.
WKI MAGAZINE: Tell us about the award you were given for community work regarding the Thames Valley Police Boxing Clever?
KELLY HAYNES: I'm the only female martial arts instructor that's involved in a project launched by Thames Valley Police and Milton Keynes council trying time reduce students being influenced into gang throughout the community. The project is Targeting secondary schools across the community and teaching the students from year 7 to year 11 discipline from martial arts and enabling them opportunities to progress the sport within gyms and incentives to keep on the projects after school or during school time.
WKI MAGAZINE: How does it feel to be the World Champion MTGP British Title holder? Tell us about the fight?
KELLY HAYNES: Overall whelmed with how far I've come in so little time, the fight was over quickly, I was so hungry for the win. Unfortunately there was a few issues on the weigh-in as my opponent was weighing in heavier than the fight agreed , which is frustrating for the fighters that train hard to prepare for the fight and to drop to the fight weight agreed. My opponent dropped a little more and the fight went ahead. I come out Aggressive and fast in the first round and got the win in a under 2 mins. Short fight but had a lot of mental build up preparing for this fight, so it was a relief to get the win but little disappointing I trained so hard and it was over so quickly. But that's the score in the ring, it just takes 1 lucky shot and that split wrong decision and it's all over.
WKI MAGAZINE: What type of workout is Enigma Fitness?
KELLY HAYNES: Women only bootcamp sessions based in combat sport. We use combat techniques from sports like Western Boxing and Muay Thai mixed with HIIT exercises to push your limits and find your new you! All ladies and all ages are welcome. Come to lose weight, tone up or simply stay in shape. We believe whatever your goal is, we will help you find new limits to your fitness.
WKI MAGAZINE: Tell us about the Women Leaders 2019?
KELLY HAYNES: Our annual awards ceremony is a prestigious event that recognises the talents and achievements of women living or working in the Milton Keynes postcode area. For those of you new to Women Leaders, the aim of this annual event is to enable women living or working within Milton Keynes and surrounding area to experience the same empowerment and recognition achieved by the national CBI First Women Award winners. I was awarded the first women to receive the new sports category for sports women 2019.
I am now one of the trustee for women's Leaders UK, I intend to promote opportunities for women from a sports background to be recognised and feel they can develop their passion into a business.
WKI MAGAZINE: What are your plans for the future? Do you have any upcoming and coming events?
KELLY HAYNES: I've had the opportunity to fight for the title in koh Samui , this year, but due to the Corona virus that's currently showing high reports across Thailand, we have had to postpone this fight. Hopefully in the next couple of months this will go ahead.
Other wise, I always have opportunities on all the MTGP events as I'm one of there fighters. Opportunities arise all the time, so never know what will happen this year but I will be in the ring at some point.
So I'll always maintain and stay focused in my training.
Be sure to check Kelly Haynes out on instagram