WKI Magazine Entertainment Article #28
Luci STEEL Romberg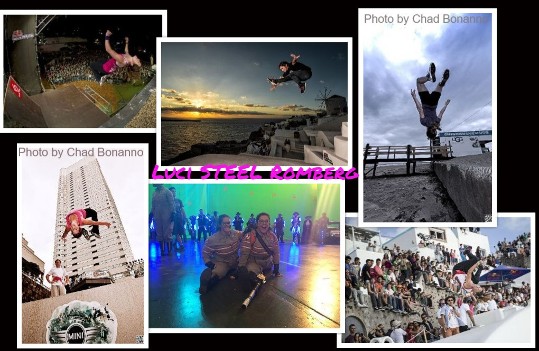 WKI Magazine Interview
with
Luci STEEL Romberg

Stunt Woman/Freerunner

WKI MAGAZINE: What motivated you to become a stunt woman?
LUCI ROMBERG: I was a national champion gymnast in college and one of my former teammates, Natascha Hopkins, was doing stunts and acting in LA. She was telling me all about it and convinced me to move to LA to give it try. I had no idea what to do, who to meet, or what skills it required but it definitely sounded more fun than anything I could have imagined.
WKI MAGAZINE: When did you start training in gymnastics and how did you prepare to become a National Champion?
LUCI ROMBERG: Both my parents were collegiate tennis players so growing up, sports were a huge part of my life. My parents were extremely supportive and let me do every sport I wanted to try. I started most sports, including gymnastics when I was around 5 or 6. When I was 12, every sport was requiring more and more time so my parents made me narrow it down to two. I chose gymnastics and soccer. My goal was to be a dual sport athlete in college so I worked really hard at both, and was able to fulfill my dream and did gymnastics and soccer at Texas Woman's University.
WKI MAGAZINE: When did you start Freerunning? What type of training goes into it?
LUCI ROMBERG: I started freerunning in 2008. I was pursuing stunt work and was fortunate enough to meet the athletes on Tempest Freerunning. I started training with them and fell in love with the sport. In gymnastics there is a right way and a wrong way, but in freerunning there is a safe and an unsafe way but there is no right or wrong way of moving. Just like any other sport or discipline, I started learning the fundamentals of the movement. There are so many different aspects to freerunning, and it is so fun and challenging to be well rounded as an athlete.
WKI MAGAZINE: Have you ever been severely injured while freerunning? Do you ever get nervous when you freerun or do stunt work?
LUCI ROMBERG:There are always the bumps, bruises, the occasional sprained ankle, etc but other than that I feel fortunate. The worse injury from freerunning was a stress fracture in my femur from overuse. I had to stay off it for a couple of months but was able to find other ways to stay active.
I get nervous often. When you're in front of the cameras you want to do a good job so I get nervous on even the simplest of stunts. I get nervous freerunning as well because when you are progressing and pushing yourself as an athlete, you strive for things outside your comfort zone. It is natural to be nervous but it's key to overcome your fear, be in the moment and get your mind to do what your body knows how.
WKI MAGAZINE: We know your vision is to promote positive body image in young women. What does Tru Beauty mean to you?
LUCI ROMBERG: Tru Beauty means a lot to me! I suffered from bulimia for many years and so many people silently stuggle and suffer with eating disorders and poor self image. I wanted to put myself out there, be vulnerable and let people know, that they are not alone. My message through Tru Beauty is to love yourself and to find something that inspires you, that makes you feel like your the champion that you are!
WKI MAGAZINE: Tell us about your credits and awards that you have acquired as a stunt woman in Hollywood?
LUCI ROMBERG: I have been extremely fortunate to double Melissa McCarthy for the last 7 years. She is so loyal and is the absolute best to work with! I have also been fortunate to double Drew Barrymore on her last few projects. I have been nominated for 4 Taurus World Stunt Awards and I have won one for the car hit I did doubling Melissa on Identity Thief. I have won a Diamond in the Raw Award as well as an Artemis Award. I am also the 11 time Red Bull Art of Motion female champion.
WKI MAGAZINE: Tell us something that you would like our readers to learn about you?
LUCI ROMBERG: I'm a true believer that people can do anything they put they're minds to! It might be a hard road to get there but if you work hard and never give up you can do anything!
And also, I was the first female to clear the jumping spider on Ninja Warrior.

WKI MAGAZINE: Being a stunt woman in Hollywood, is there anything you would like to see changed for women in the industry?
LUCI ROMBERG: Over the last few years, there has definitely been a shift in females in the industry. In the last two years I have worked with just as many female directors as male directors. We still have a ways to go, but it is really exciting to see women getting more opportunities to show what we are capable of!!

Luci Romberg
Stunt woman
http://www.luciromberg.com
http://www.tempestfreerunning.com
http://www.stuntwomen.com