WKI Magazine Entertainment Article #23
Cal Bartlett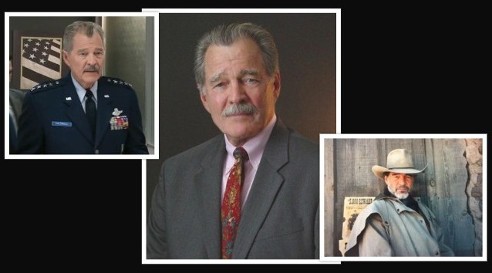 WKI Magazine Interview
with
Cal Bartlett
"Pete's Dragon"/ Fear the Walking Dead
WKI Magazine: What made you want to pursue acting?

Cal Bartlett: In Oct. of 1957 while a student at U of Ark at Little Rock , I was studying business administration. A friend of mine talked me into auditioning for an open part in the University's production of "The Rainmaker". Apparently the guy playing Noah had to drop out and they were desperate. I had never been involved in theatre in any way, but my friend would not take no for an answer. So, three weeks later I had my first experience on stage in front of an audience. I had an epiphany, no other way to describe it. To make a long story short, I changed my major to Speech/Drama, received my degree, proceeded to Southern Illinois University pursued my Masters in Theatre on a Graduate Assistantship. In the spring of 1962 I left SIU, took my wife and 2 kids and headed for Hollywood .


WKI Magazine: Out of the many roles you have played, which one was your favorite?
Cal Bartlett: On film "The Red Fury", on stage Arthur Miller's "The Price" at Theatre West, TV recurring on "The Virginian", and in a commercial "E-Trade" running on the beach.


WKI Magazine: What was it like working with Mae West?
Cal Bartlett: I worked with Mae West on "Myra Breckinridge" in 1968 and she asked me to escort her to the NY premiere in June of 1970. We became fast friends and she asked me to escort her to many events for the following 15 years. I worked with her in her final film "Sextet" in 1977. She was an absolute delight.


WKI Magazine: How much has the entertainment industry changed since you began your acting career?
Cal Bartlett: The industry has gotten old and I'm still young, go figure.


WKI Magazine: What was it like to work on Pete's Dragon ?

Cal Bartlett: Pete's Dragon was a delightful experience. To work with the likes of Mickey Rooney, Helen Reddy, Red Buttons, Jim Dale, Shelley Winters, and that wonderful dragon "Elliot", it doesn't get any better than that.


WKI Magazine: Who are some of your favorite actors you have worked with?

Cal Bartlett: It's like choosing your favorite child. We don't go there.



For more information on Cal visit:

IMDb link:
https://www.imdb.com/name/nm0058786/?ref_=fn_al_nm_1




Represented by Laura Lichen Management
http://www.lauralichenmanagement.com/cal_bartlett.html