WKI Magazine Entertainment Article #25
Lar Park Lincoln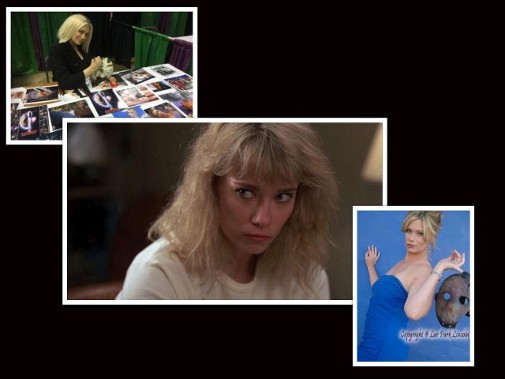 WKI Magazine Interview
with
Lar Park Lincoln
Friday the 13th
WKI Magazine: What kept you motivated during all your hardships?
Lar Park Lincoln: Even though I have had many hardships, someone else was having a more difficult time. I am sure. I consider myself the luckiest girl in the world, and my autobiography is titled "Lucky Girl" I believe in hope. I think it's greater than love and more valuable than self confidence. When hope is lost, the world seems dark and scary. Without hope, we can lose sight of the beautiful world around us, Without hope nothing seems possible. But one little glimmer of hope for better days. Stress and illness getting even a little better gives us the strength to persevere. So I say hope kept me alive during stage 3 Breast cancer and being stalked 6 years and then shot at in my own home... he missed!


WKI Magazine: What was it like being a part of such a big movie like 'Friday the 13th'?
Lar Park Lincoln: "It was "To Die For!" Except my character, Tina, didn't die. I declined part 8 after being offered it because I felt the character shouldn't die in the next sequel. I loved the psychic tone of the film and being the first strong female character to defeat Jason with her mind. It added a whole new twist to the series. I was a big fan prior to my audition...So that made me a little extra nervous...
I never would have thought that a horror film I did as a young actor would end up being such a fun experience and I've loved networking and making friends at the cons! People have a lot of stories in their lives, and I love meeting fans and hearing "Their story!"


WKI Magazine: What made you want to be an actress?
Lar Park Lincoln: I would say the turning point was in third grade. This business dwells in your soul to create works of art for everyone to enjoy! But we were to write an essay on what we felt we would be doing as adults. I wrote about being an actor, model, writer, attorney, real estate. These occupations are actually very similar personality types or the creative types.
I was laughed at during my presentation. The thick brown glasses and scrawny body. I never listened to a word they said. I wouldn't allow that childish banter to enter my mind. Even as that young girl, I knew an attack when it was coming on... I got stronger and I became that actor, writer, coach. The Army brat who attended over 17 schools? Yea.... I kept going!


WKI Magazine: What has been the most defining moment of your career (so far)?
Lar Park Lincoln: Friday the 13th Part 7, Freddy's Nightmares and House 2 made me known in the horror genre. I loved the character (I rarely play innocent...well she did kill her father...but that's another story... she didn't mean to..)
Knots landing established me as a regular on a very popular series. I just loved going though the Lorimar gate every morning...and in my mind I would say "Larimar" every time!!
Interestly, both Friday the 13ths , long line of films, and Knots Landing brought me into a fixed, established series. Exhilarating and terrifying!!


WKI Magazine: How was it like to be interviewed by Oprah Winfrey and how did it make you feel?
Lar Park Lincoln: There are no words.....but I'll try. She was warm and friendly. She had really studied my work over time and knew how to make you feel comfortable.

WKI Magazine: Being a woman in the entertainment industry what do you think needs to be improved? Are expectations different for you as a women compared to your male counterparts?
Lar Park Lincoln: Expectations are very different....from body size and fitness, to faces wrinkled from portraying a lifetime of characters. I'll take the lines on my face. Men are paid more, given more freedom to try new and interesting projects. Women in our society have " expiration dates". I'm not a dairy product with a "Use By Date"
I'd like to see ageism grow up.


For more information on Lar visit:

IMDb Link:
https://www.imdb.com/name/nm0661983/?ref_=nv_sr_1


Represented by Laura Lichen Management
http://lauralichenmanagement.com/lar_park_lincoln.html