WKI Magazine Entertainment Article #35
Cynthia Rothrock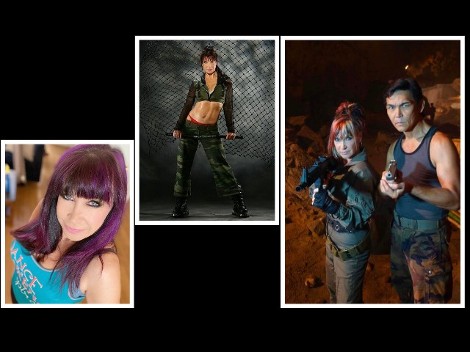 WKI Magazine Interview
with
Cynthia Rothrock
The Queen of Martial Arts / Action Star
WKI MAGAZINE: At what age did you start training in Martial Arts and in what system?
CYNTHIA ROTHROCK: I started in Tang Soo Do at 13.
WKI MAGAZINE: How many Martial Arts systems have you trained in and what rank do you hold?
CYNTHIA ROTHROCK: From Tang Soo Do I studied Pai Lum Kung Fu, then went on to Eagle Claw Kung Fu, then Wu shu , then Tae Kwon Do... My rank is 8th dan
WKI MAGAZINE: Tell us about your five World Championships in Forms and Weapons? Did you compete in fighting events and how many?
CYNTHIA ROTHROCK: I started off doing fighting, form and weapons. I did well in fighting but it took all day to compete in all three events, then Finals were late at night. I loved the Form and Weapons more, so I stopped fighting and focused on just the later two. I had a goal of being undefeated for five years. This meant competing at least 30 times a year. So I competed over 100 times in five years and have not been defeated in Women's Form. In 1982 I won the title Number one in the US in weapons competing against the men because there was never a women's weapons division.
WKI MAGAZINE: How did it feel to be inducted into the Black Belt Magazine Hall of Fame?
CYNTHIA ROTHROCK: I was really honored to be inducted into the Black Belt Hall of Fame. It was a Hall of Fame that was very hard to get into...with the likes of Bruce Lee and Chuck Norris. In 2014 I was inducted into the International Sports Hall of Fame by Dr. Bob Goldman and Arnold Schwarzenegger. This is the most prestigious Hall of Fame to be inducted into. I was the first martial artist male or female to be inducted, which I'm very honored.
WKI MAGAZINE: Tell us about being the first women on the cover of a Martial Arts Magazine?
CYNTHIA ROTHROCK:The editor Renardo Barden wanted me on the cover. He had to fight to get me on..because he was told women and minorities didn't sell. I have since been on the cover of over 100 magazines world wide.
WKI MAGAZINE: Tell us about the book you co-authored in 1986?
CYNTHIA ROTHROCK: I wrote a book along with George Chung on Dynamic Kicking for Black Belt magazine. You can still find copies of it..but it did quite well selling out every time they made copies.

WKI MAGAZINE: You became one of the few western performers to achieve success in the Hong Kong Film Industry before achieving success in your own country. Tell us about the 10 years you worked on action films and tv shows in the US?

CYNTHIA ROTHROCK: Well I started my first movie in 1985 and am currently shooting one now called the Huntress. So I have been in over 60 films and still going strong. I took off some time between 2000 for about ten years because I had my daughter in 1999 and wanted to stay home and be mom, because most of my films were outside the US. I did a few films but turned many down. My first experience was filming in Hong Kong, from 1985-1992. I loved the hard challenging fight scenes we shot there...quite different than my films in the US. Since I have done TV, Reality, Movies and a cartoon, Eek the Cat
WKI MAGAZINE: What was your favorite film you worked on and who was one of your favorite actors you worked with?
CYNTHIA ROTHROCK:That's a hard question, but I loved Yes Madam, Lady Reporter, and Righting Wrongs for fighting, for US overall films, Sworn to Justice and The Martial Art Kid. My favorite people to work with are my dear best friends, Richard Norton, Don Wilson...and I loved working with Kevin Sorbo, and Stacey Keach.
WKI MAGAZINE: You have achieved so much, what an amazing resume! Would you like to share with our readers any up and coming projects or goals that you are working on?
CYNTHIA ROTHROCK: I am currently working on getting a book and a documentary together on my life. I have a few movies slated for next year, a horror film, a western and a good Kick ass production. I am working on making my youtube channel successful, youtube.com/cynthiarothrockchannel
WKI MAGAZINE:Tell us something most people don't know about you?
CYNTHIA ROTHROCK:Oh that they don't know... I think most people know I am an extreme adventurer...challenging myself constantly, I don't like turbulence on planes, I am an animal lover (I have 5 dogs and 1 cat) I love to read and go to historical places)
For more information on Cynthia Rothrock check out her website:
www.cynthiarothrockofficial.com