WKI Magazine Entertainment Article #9
Rose Hill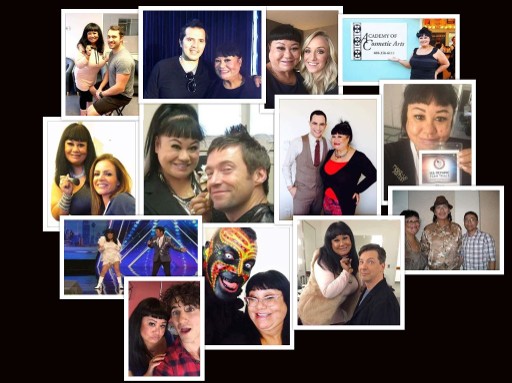 I've recently had the honor of interviewing highly-sought after make-up artist Rose Hill.
Rose's career started when she was 15 years old when she was selected to be on the JC Penney's Fashion Board representing Mountain View High School. She was assigned to the cosmetics department and was discovered by a representative from Bonnie Bell Cosmetics. She was one of the first female minority makeup artists assigned to apply and train beauty advisors for the line in high end department stores and boutiques. This led her into being represented by Grimmé Model and Talent Agency.
When she was seventeen years old, she entered a writing contest sponsored by Seventeen Magazine and a Major cosmetics company. Rose wrote an essay about makeup and she won. The company flew Rose and her mother out to Cincinnati, Ohio, where they trained her as a makeup artist. She learned much from her training, such as what lines were good, what techniques worked, and what didn't work. She learned also learned about skin care as well. In 1989, she opened the award-winning Academy of Cosmetic Arts, located in Los Gatos, CA, to train aspiring makeup artists because she had needed help in the industry as far as fashion shows and the large amount of calls Rose was receiving from photographers in the business. This grew into commercial work which led to projects in the film industry.
Today she is a licensed cosmetologist and aesthetician. She has since become very well versed in all styles and forms of makeup in stage, theater, film, video, television, and photography. She enjoys all aspects of makeup from prosthetics to beauty and even the occasional food styling job.
Rose is also a very talented dancer who occasionally performs with her husband, Charles, who is a talented singer and Elvis Impersonator. Rose and Charles have made appearances on NBC's hit Television show America's Got Talent, and they received standing ovations from Simon Cowell and Howie Mandel, along with praise from George Lopez. They made it to the judge cuts round and barely missed making the quarterfinals. The appearances went so well for Rose and Charles that they went on to be in one of Las Vegas's most long running shows called Legends in Concert at The Flamingo Casino & Hotel. Rose has some performances with The Hula Spice Girls coming up and RuPaul live group coming soon.
Rose Hill has proven to be very successful in whatever she does, whether it be in makeup, as a stylist, or as a businesswoman. These days, most of her work deals with corporate CEOs and commercial print jobs. Her many impressive credits include gigs with ESPN, ABC, NBC, BBC, CNN, CNBC, Telemundo Network, Warner Brothers, The Geraldo Show, The Golf Channel and Lucas Films.
Rose has worked on some top personalities and CEOs, including former President of The United State Bill Clinton, and former Vice President, Al Gore. She has also worked with the former Prime Minister of England, Tony Blair.
Other notable CEOs and businessmen she has worked with include:
Gordon Moore- Founder of Intel
Bill Gates- Microsoft CEO
Gil Amelio- Former CEO of Apple
Patricia Dunn- Former CEO of UP
John Morgridge - CEO of Cisco Systems
Terry Semel - CEO of Yahoo
Tom Siebel - CEO of Siebel Systems
Philippe Kahn- Founder of Borland
The many celebrities she has worked with include:
Alan Alda - Emmy Award Winning Actor
Carol Burnett- Emmy Award Winning Actress
Jim Carrey- Golden Globe Winning Actor
Geena Davis- Academy Award Winning Actress
Linda Evans- Golden Globe Winning Actress
Fabian - Singer
Eddie Fisher - Singer and Actor
Peggy Flemming – Figure Skater and Olympic Gold Medalist
Louise Fletcher - Academy Award Winning Actress
Rudy Galindo - Figure Skater
Dustin Hoffman - Academy Award Winning Actor
Hugh Jackman - Academy Award Nominated Actor
Nastassja Kinski- Golden Globe Winning Actress
Cloris Leachman - Academy Award Winning Actress.
Ted Levine - Actor
Julian McMahon - Actor
Danny Glover - Actor
Bryant Gumbel - Emmy Award Winning TV Host
Alyssa Milano - Actress
Joe Montana – Four-Time Superbowl Champion
Tracy Morgan - Emmy Award Nominated Actor
Robert Prosky - Actor
Jerry Rice – Three-Time Superbowl Champion
Molly Ringwald - Golden Globe Nominated Actress
Geraldo Rivera - TV Show Host/Reporter
John Rhys-Davies - Emmy Award Nominated Actor
Carlos Santana – Ten-Time Grammy Award Winning Musician
Don Schula - NFL Coach and Two-Time Superbowl Champion.
Sammy Sosa - Major League Baseball Player
Ben Stein - Five-Time Emmy Award Winning TV Host
Connie Stevens - Actress/Singer
French Stewart - Emmy Award Nominated Actor
Shirley Temple Black - Juvenile Academy Award Winning Actress
John Travolta - Academy Award Nominated Actor
Cicely Tyson - Emmy Award Winning Actress
Frankie Valli and the Four Seasons - One of the all-time top selling music groups of all time
Robin Williams - Academy Award Winning Actor
Tiger Woods - Professional Golfer
Kristy Yamaguchi - Figure Skater and Olympic Gold medalist
Robert Plant - Lead Singer of Led Zeppelin
Dwayne Johnson- Actor and Former Eight Time WWE World Wrestling Champion.
Cody Rhodes- Actor and Former Six Time WWE World Tag Team Champion.
Brock Lesnar- Pro Wrestler/MMA Former UFC World Heavyweight Champion and Five time WWE World Champion.
John Cena-Pro Wrestler/Actor, Thirteen Time WWE World Champion.
Sting- Former Pro Wrestler, Former Six Time WCW World Heavyweight Champion and Six Time TNA World Heavyweight Champion.
The Undertaker- Pro Wrestler Former Seven Time WWE Champion.
Randy Orton- Pro Wrestler/Actor and Thirteen Time WWE World Champion.
Nastia Liukin- Olympic Gold Medalist Gymnast.
Darren Criss- Actor/ Grammy award nominated singer.
Zac Posen- Famous American Fashion Designer.
Klay Thompson- Two Time NBA Champion.
Jessalyn Gilsig- Actress
Ben Higgins- The Bachelor 2016 Season
2016 American Olympic Gymnastics Team.
Chief Make-up artist at Wrestlemania 31.
Chief Make-up artist for 2016 American Olympic Gymnastics Team.

Even with all the success and accomplishments that most people would let get to their head, Rose is one of the nicest and most humble people I've ever had the privilege of speaking to. In her free time, she volunteers and helps underprivileged kids.
Rose Hill is represented by agents in Los Angeles, San Francisco, New York, Las Vegas and Japan.