WKI Magazine Entertainment Article #44
Bunny Stewart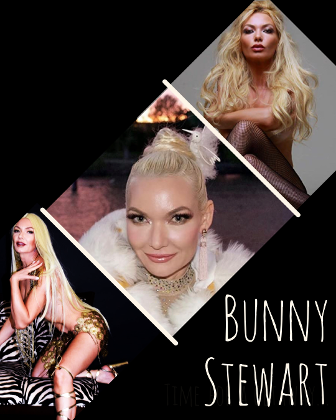 WKI Magazine Interview with
Bunny Stewart
Independent Film Actress
WKI Magazine: What motivated you to want to become an actress and a model?
Bunny Stewart: I loved acting from watching all kinds of different old fashioned movies at my grandparents house; westerns, mysteries, musicals, comedies…I especially loved the style and glamour of the ladies in the black and white films they would watch. I started doing Theater in high school and fell in love! Modeling was a fun way to make extra money, I always liked getting to meet and work with dynamic, creative, beautiful people.
WKI Magazine: Tell us about your role in 'Abduction of Jean'?
Bunny Stewart: My character in Abduction of Jean is a very very damaged individual. She has an untreated mental illness and a background of abuse; which made her a superficially charming woman who appears to be a social butterfly, but is hiding her true personality. It was probably one of my favorite roles because she was truly unpredictable. It's fun playing the villain for me because my day to day life is purposefully geared toward helping people and being as loving as possible, but being able to access my 'crazy' really pays off on camera?.
WKI Magazine:Can you tell us about your modeling career?
Bunny Stewart: My modeling career has been an exciting and fun variety of great experiences. I've been lucky to experience all types of modeling and incorporate those experiences into acting as well! For example, in Andrea's New School, Andrea and her gorgeous friends rob a bank to help her failing modeling training academy!
WKI Magazine: What was your favorite role as an actress?
Bunny Stewart:I know this will sounds cheesy, but honestly any role I'm working on at the moment is my absolute favorite! Putting on someone else's skin is almost more comfortable to me than living in my own. And I get to be characters I wouldn't be able to be in real life; like being a College Professor; a Mob Psychiatrist, or a tough ride or die type biker chick.
WKI Magazine: How many acting credits in film do you have?
Bunny Stewart: At this time I have 27 Film credits; and I returned full time to acting and doing makeup, so I can't wait to see what comes up in the future.
WKI Magazine: Who are some of the people you have worked with in both film and modeling?
Bunny Stewart: I've had a chance to work with some amazing actors. I got to work with Richard Tyson in Under the Palm Tree, playing one of his unlucky live interests; recently I got to work closely with Eric Roberts in Soul Cage; that was a dream come true. He actually won Best Actor at the Action On Film Festival in Vegas this year for that role. I learn soo much from so many amazing actors. I've found that actors have some of the best personalities and sense of humor…which makes sense, since you have to be really genuine in very bizarre and unnatural circumstances.
WKI Magazine: Tell us about any awards you have won as an actress?
Bunny Stewart: I have had the honor of winning 2 Awards that are priceless to me; 'Best Actor In a Leading Role' for 'Afternoon Delight'; and the Pamela Finney Actress Award, for a collective body of work. They mean more than words can say, because for one I was portraying the Director and Writers' dear departed French mother. And the Pamela Finney Award is in the memory of Pamela Finney, an incredible actor and person. We all miss her and it's a true honor to see my name by hers. I remember her every single time I look at it.
WKI Magazine: What are some of your future plans?
Bunny Stewart: Future plans include a lead role in a feature film! I can't talk about it yet though, it's still being negotiated. As soon as I can I'll let you know!
WKI Magazine: Can you tell us something no one else knows about you?
Bunny Stewart: Something about me that nobody knows is that I have craving for a very bizarre candy sometimes…double salted Dutch black licorice! I loove it; but most people think it's disgusting! It's a throwback to when I was a girl in Holland. It's definitely an acquired taste lol! My friend put one in her mouth and immediately bent over and spit it out?. Try it! It'll be an adventure!
Thank you so very much for this opportunity. I hope you all join me on this road of happy destiny! And always remember…a smile is the best makeup. Soo grin and wear it! Some Bunny Loves You?
To learn more about Bunny, be sure to check out the links below:
http://www.imdb.com/name/nm5459786/
https://www.backstage.com/u/bunny-stewart