WKI Magazine Entertainment Article #21
Kimberly Estrada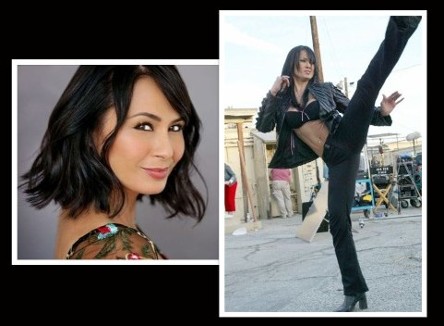 WKI Magazine Interview
with
Kimberly Estrada
Hawaii Five-O/Lost
WKI Magazine: What kind of roles have you played?
Kimberly Estrada: Over the years I've played a wide range of roles: pro boxer, underground fighter, veterinarian, attorney, detective, assassin, shaman and more…It's been so much fun to step into all those shoes.
WKI Magazine: You are beautiful and exotic looking! What is your ethnic background?
Kimberly Estrada: Thank you! That's very kind of you. I'm truly a mutt. My mother is Chinese and my father's ancestors were primarily European, largely from Spain , England and Scandinavia.
I've always felt a very strong connection with my Chinese heritage, which is probably what sparked my initial interest in martial arts at an early age. I have an extensive background in martial arts and combat including Shaolin Kempo, Jeet Kun Do Kung Fu, Jiu-Jitsu, Tae Kwon Do, Kickboxing and Western Boxing. I've always been a bit of a tomboy. I was the only girl playing on my high school's boy's soccer team. Later I played soccer for the University of Maryland , College Park at the NCAA Division 1 level. At the University of Maryland , I earned scholar–athlete awards, graduating cum laude with a B.A. degree in Criminal Justice. I learned a lot of discipline from my time as an athlete growing up.


WKI Magazine: Who are some of the directors you have worked with?
Kimberly Estrada: I've been privileged to be directed by some amazing folks over the years, some of them Academy Award winners like Clint Eastwood, Bill Condon, Oliver Stone and the Coen Brothers. I was cast and directed by Clint Eastwood in Best Picture "Million Dollar Baby," as one of Hilary Swank's opponents. I was also directed in two films by Nick Vallelonga, who was a writer/producer on "Green Book" which just one several Oscars. So proud of his recent success.


WKI Magazine: What are some of the TV shows you've appeared on?
Kimberly Estrada: Some of my most recent TV appearances include: Hawaii 5-0, Chance, Hit the Floor and Criminal Minds. I appeared in eight episodes of the CW's Easy Money" and had the opportunity to work with Laurie Metcalf, who played my mother-in-law. That was a wonderful experience. Over the years, I also appeared on Lost, The Forgotten, Chuck, Sons of Anarchy, Heroes and I was spokesmodel #16 on the first 45 episodes of "Deal or No Deal". While on that show, I was lucky to be named one of People Magazine's 100 Most Beautiful People in 2006. That was an unexpected honor.
WKI Magazine: Who would you ultimately love to work with?

Kimberly Estrada: I would have to say Meryl Streep. Who doesn't want to work with her I suppose? She's absolutely amazing and beyond talented. She's always been a big role model.



IMDb Link
https://www.imdb.com/name/nm1538997/


Kimberly's Acting Reel
https://vimeo.com/311796619


Kimberly's Action Reel
https://www.youtube.com/watch?v=_dsTS1JL9vA


Represented by Laura Lichen Management
http://www.lauralichenmanagement.com/kimberly_estrada.html