WKI Magazine Entertainment Article #18
Shannon McCabe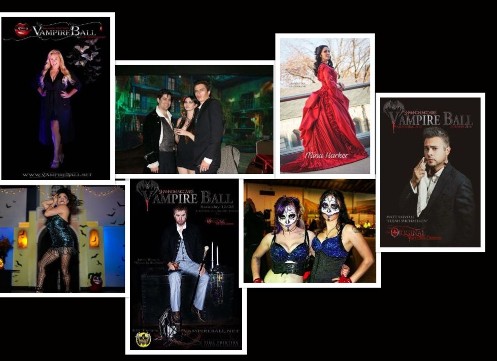 I recently had the honor and privilege of interviewing the well-known promoter and very well-respected businesswoman and philanthropist Shannon McCabe, who puts on some of the best parties and events in California. Her New Year's Eve and Mardi Gras parties have been legendary, but the one event for which she's most well-known for putting on is The Vampire Ball.
It's the biggest Vampire Ball in the world, with people coming far and wide from all over to California for this grand ball. It's full of people dressed as their favorite vampires, supernatural creatures, and characters all clad in amazing costumes that would make even the most diehard cosplayers proud.
This epic party all started in 2009 at Vega's in old town Sacramento. The first Vampire Ball was a Twilight prom a tribute to Edward and Bella from the popular series.
Over the years, Shannon has had the Vampire Ball at several different venues, and currently holds it at the California Auto Museum on 2200 Front St. in Sacramento. It has grown so much over the years and she's had so many themes.
2010 Truly Bloody Ball- tribute to True Blood
2011 Dracula- a tribute to Bram Stoker
2012 The Vampire Chronicle- a tribute to Anne Rice.
2013 Dark Shadows
2014 True Blood 2- Fairies, Werewolves, and Vampires.
2015 Quentin Tarantino's From Dusk till Dawn
2016 The Lost Boys- Swarming the beach board walk of Santa Carla
2017 The Original Vampire Diaries
2018 The Ten-Year Anniversary- Nosferatu, the story of Dracula
This big event sells out every year. Outside in the courtyard are some of the best food trucks in the city, and even fire dancers putting on a show.
To me, as someone who's been to this grand event and personally experienced it, it was more than just an epic party. It's a magical place where I've seen people make new friends and even fall in love and meet their special someone a place where people are free to be themselves and have a great time and party in a great atmosphere.
The surreal feeling you'll have while you're at the Vampire Ball is just amazing; you'll feel like you're in a movie with all the great things going on around you. The great music, the dancing, the beautiful people, burlesque dancers performing, tarot card readers, all the cool vendors and the interesting people you'll meet.

I interviewed Jason Ring who played Klaus Mickaelson at The Vampire Ball back in 2017 and asked him what he loved about the event and this is what he had to say.

Well, I liked the event for many reasons. Number one: it's a positive, fun environment with people passionate about Halloween, cosplay and Vampire lore. I also like that Shannon picks a new theme based on a classic Vampire movies. It keeps the event fresh and exciting year to year. The overall experience is an immersive environment with plenty of activities and scheduled shows throughout the night. The production behind this event is well thought out and, most of all, a lot of fun. With 3 top DJ's and a main stage with Live music drinks and even fire, and hoop dancers performing throughout the night. So much fun! It was my honor to play Klaus Mickelson last year from The Original Vampires. Shannon McCabe's Vampire Ball is truly an incredibly fun night.
if you're in or near the Sacramento area the Shannon McCabe's Vampire Ball is the place to be. It will be taking place on Saturday, October 27th.
Go buy your tickets online in advance tickets sell out fast.
There will be Performances by:
Ana Maria Perales Dance
A Death in Bloom
Live Piano Music By Kount Kubel
Full Bars Featuring: Vampire Vineyards
Burlesque Stage
Main Stage Vampire Show
Vampire VIP Lounge
Singles Lounge
Kink zone
Vendors
Psychics
Food Truck
Led Spinners
Outdoor Courtyard
Belly dancers
DJ Bryan Hawk
DJ Dani Fontana
VIP Lounge DJ's:
Norman Stradley-SF
DJ BB Hayes- SF
I'd like to thank Spirit Halloween for all their help and mention the Spirit of Children Charities (Which raises money for UC Davis and Shriners Children's Hospital!). A portion of the proceeds from the Vampire Ball go to this foundation. I'd also like to mention another great sponsor of The Vampire Ball. www.vampire.com
I highly recommend attending this great event. The Vampire Ball is definitely the best party in Sacramento all year, so don't miss it.