WKI Magazine Entertainment Article #6-Hector Camacho Jr.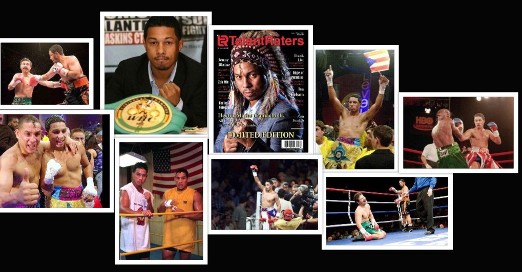 I had the privilege of interviewing professional boxer Hector "Macho" Camacho, Jr.
Hector Camacho Jr. has a professional boxing record of 58 wins, 7 loses,1 draw and 1 no contest.
32 of his wins were by knockout.
He has notable wins over former IBF World Junior Middleweight Champion Luis Ramon Campas, former IBO World Super Featherweight Champion Israel Cardona, Bryon Mackie, Fred Ladd, Rocky Martinez, Joe Hutchinson, former IBF World Lightweight Champion Phillip Holiday, knocked out ranked contender Harold Warren in the first round of a televised fight on Fox Sports network. Harold Warren lost a twelve round unanimous decision to Roberto Garcia for the IBF World Super Featherweight title.
Hector knocked out Larry La Coursiere in the second round of a televised fight on Fox Sports, and La Coursiere retired after this brutal second round knockout. La Coursiere previously went the distance with Julio Cesar Chavez Sr. at Madison Square Garden. Hector also knocked out Simon Gonzalez in round one of a televised fight on Fox Sports. Gonzalez lost a twelve-round points decision to future World Boxing Council World Featherweight Champion Gregorio Vargas. Gonzalez never boxed again after that first round knockout against Hector.
Hector beat Phillip Holiday in a technical decision. Holiday has notable wins over former World Champion Jeff Fenech. Hector soundly beat Rocky Martinez in twelve round unanimous decision; Martinez lost a unanimous decision that was much closer with future WBA World Welterweight Champion Paul Malignaggi.

Hector beat Joe Hutchinson badly in a ten round unanimous decision; Joe Hutchinson lost a much closer ten round decision to Future World Boxing Council World Super Lightweight Champion Arturo Gatti.

List of titles won by Hector Camacho Jr.:
World Boxing Foundation Intercontinental Middleweight title
World Boxing Council Caribbean Boxing Federation
United States Boxing Organization Welterweight title
WBA-NBA Super Lightweight title
World Boxing Council Youth World Super Lightweight title
Hector is the son of boxing legend and a former three weight division World Boxing Champion Hector Camacho, Sr., who had some of the most memorable fights in boxing, and wins against all-time greats including Roberto Duran, Vinny Paz, Freddie Roach, Sugar Ray Leonard, Ray Mancini, Greg Haugen, Edwin Rosario, Jose Luis Ramirez, Cornelius Boza-Edwards, Rafael Limon, and John Montes.
On June 13th, 1985, at his father's fight in Madison Square Garden, televised on HBO against Edwin Rosario for WBC World Lightweight Title, a six-year-old Hector Camacho Jr. got to walk with his dad into the ring and entered the ring with his father wearing the WBC World Lightweight title. Hector Jr. threw a flurry of uppercuts, showing that he had his father's fast hands as the crowd in Madison Square Garden cheered him and his father on. Hector Camacho Sr. would go on to win one exciting fight by majority decision that night. A young Hector Camacho Jr.'s dream to get into the ring and box started that night.
Hector grew up in the mean streets of New York and got his start in boxing at eight years old when his mother signed him up for boxing, so he wouldn't have the time to get into trouble on the streets. She would even drive him one to one and a half hours each way so that he could train at a boxing gym. In 1994, Hector started competing in the ring as an amateur boxer, and in 1996 he was ranked number one in the nation, even going into the Olympic Trials. He lost to future world Champion Zab Judah at the 1996 Olympic Trials. He turned pro at age 18 in 1996.
Hector was determined to make his own name in boxing and to get out of his father's shadow. He was motivated not to be like his uncle, Felix Camacho, who was in the shadow of his brother, Hector Camacho Sr., and never lived up to his full potential. Felix did capture the WBF World Super World Super Bantamweight title but lost it in his first title defense and never came close to his brother's success; putting up a 20-6 Record and being only known as Hector "Macho" Camacho Sr.'s little brother.
Hector Camacho Jr. did everything he could to avoid the mistakes his father and uncle made with alcohol and prescription drugs. He was living the clean life by staying away from trouble, though he had a hard time being the son of Hector "Macho" Camacho Sr., as everywhere he went people called him Macho Camacho Jr.; Hector even went by different names like Hector Luis to prevent people from knowing who he was.
He didn't always have his father involved in his life; Hector did a lot of the things he's accomplished on his own. When Hector did well, he did what he could do to help others. He was always very hands on and took time to make a difference in the lives of others. He's helped charities like Fight to Walk, which raises money for spinal cord research. He has helped the Make-A-Wish Foundation by visiting and helping children and spending time with them. He, along with boxing legend Ray Mercer, has helped found a non-profit organization that reaches out to community youth and young adults that provides them with a channel to find, and work towards fulfilling, a dream. He's currently helping people in poverty-stricken areas in the country of Panama.
Hector Camacho Jr. is known for some of his old habits, like not making weight or not taking some of his fights seriously, which caused him to lose some fights he should have won. Hector told me he really regrets making some of these mistakes and has changed his ways; he vowed to take boxing seriously and to drop back down to one hundred forty-seven pounds. He has even gone as far as having one of the greatest boxers of all time, Roberto Duran, train him in Panama. Hector runs every day like a madman through the streets of Panama, training harder in the boxing gym than he ever has in his life. He's fighting for a lot more than himself: he's fighting for the kids in the old neighborhood, and the people living in poverty in Panama. He's fighting to redeem himself and for one last chance at greatness in the ring, after talking to Hector Camacho Jr., I can easily see that he's fighting for a lot more than himself.
When it comes time for this comeback fight, I truly believe the world will see the real Hector Camacho Jr. as the hero that everyone's been waiting for and it's going to be one great fight. I'm looking forward to seeing the fans in the crowed arena yell, "it's Macho time!" once again.

With the help of boxing legend Roberto "Hands of Stone" Duran, I think Hector "Macho" Camacho Jr. will make history and comeback at 39 years old and win another professional boxing title.
You can look for Hector "Macho" Camacho Jr. on the cover of TalentRaters Magazine coming soon.

Talentraters | Dare to be Greater
https://www.talentraters.com/

Talentraters | Dare to be Greater
TalentRaters is an executive search for new, emerging, professional, and celebrity, artists, performers, enterta...