WKI Magazine Entertainment Article #2-Jamisin Matthews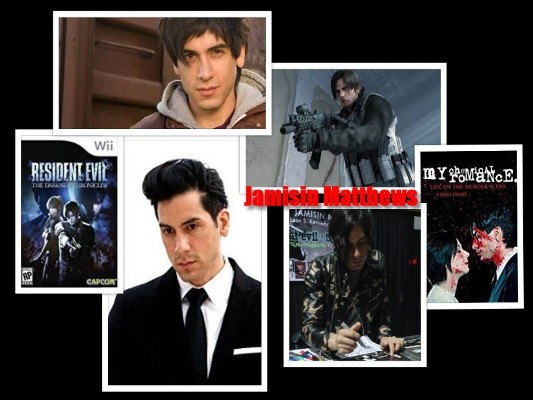 WKI Magazine Interview with
Jamisin Matthews
'Resident Evil' Star / Actor / Model
I had the privilege of interviewing Jamisin Matthews who is known as the face of Leon Kennedy in Resident Evil: The Dark-side Chronicles and in Resident Evil: Degeneration, as well as My Chemical Romance's Demolition Groom. Jamisin is an award-winning fight choreographer, photographer, actor, and musician.
As a kid, Jamisin's father studied Kyokushin martials in Asia and enrolled young Jamisin in traditional full contact classes. When he could drive, he enrolled at one of the only Chinese kung fu schools on the south side of Chicago, where he studied in Wing Chun. He trained for years alternately at Jianhua Guo's (Wuhan Institute) CMAA and Jade Mountain Praying Mantis (Art d'Agostino 7th Gen) in Florida. CMAA is where Danny Pesina and Tony Marquez were assistant coaches, national champs, and, of course, video game heroes known for their roles as Johnny Cage and Kung Lao in the Mortal Kombat video games.
Jamisin then saved enough money to move to Los Angeles where he trained with Li Jing (Beijing Wushu) in Chinatown at the Alpine Recreation Center. When Coach Li left for movie work in Hong Kong, Jamisin began teaching in Hollywood. He continued his own education under Taimak Guariello, who had starred in The Last Dragon. There was a lot of Ron Van Clief in his approach; different, yet he could see enough similarities to his Chinese foundation. Jamisin opened his mind to slight variations in angles, weight distribution, and distancing. By the time he moved back to New York two years later, he was teaching privately, designing fights, and action-acting. He worked on some Japanese projects. Still, he wanted to improve his action design.
Jamisin was proud of the sequences he had created, but he felt something was missing in the timing and coverage. He stopped taking coordinator jobs and started fresh upon being accepted to Rueben Langdon's Just Cause (ACT). To him, this was the best because the two coaches were literally on Jackie Chan's and Sammo Hung's action teams. In fact, half of guys working out there had appeared in their movies. At this point, it wasn't about work; he looked at ACT as his martial arts class. Additionally, the 10-15 people working out there are top stunt performers now.
His other training has been in combat sports. This is, of course, the third aspect of his own Jacorva. He chose Glendale Fighting Club because he liked their combos and vibe. One of his favorite Dutch Thai boxers, Golden Girl, trained out of GFC at the time. And, of course, Ronda Rousey and a handful of other UFC fighters were on the roster, so it was good to see how the pros put together their striking sequences.
Jamisin was teaching working actors and models in Hollywood, so performing on camera was just a logical evolution, beginning mostly music videos. People usually remember him in the Britney Spears "Slave4 U" or Chely Wright "Jezebel" videos because they won the most awards. He had been working out with Just Cause about 3-4 years. During that time, he auditioned for various projects. In fact, he originally auditioned to do motion capture for one of the other prominent characters in Resident Evil 5. Then, the first time they chose him to be Leon was for live action filming on a RE4 Nintendo port. He was unable to because of a conflict. Third time's a charm, I guess; and Degeneration was his first time as Leon. Jamisin told me that the shooting itself was pretty chill and took place in San Gabriel Valley. He was called in to do that because of his hair. The interesting thing about many sitcoms is that they are filmed like theater in front of an audience.
In general, he liked all the people that he had worked with and he doesn't want to forget anyone, so he's going to hold off on names. He's grateful when booked and it is hopefully a mutually positive scenario. On the flipside, he enjoyed the people that he gets to help in their own martial arts study. He usually works through referrals or after a few chats, so by the time physical training begins, he sort of knows them. No matter how long the training relationship, the shared experience is rewarding.
Jamisin was a huge fan of traditional monster movies as a child; probably before martial arts! To be in a Frankenstein feature, especially with all the comic book guys (Don F. Glut directing and Len Wein in what will be his final film appearance) is fulfilling. The cast is a who's who of classic monster movies; and even the Harry Potter franchise. On top of that, his enemy in the film is none other than Mel Novak as Dr. Mortality, who is Stick in Game of Death. Mel's also in An Eye for An Eye and Black Belt Jones. Sharing an onscreen antagonist with Bruce Lee, Chuck Norris, and Jim Kelly is kind of mindblowing!
During the holiday, Jamisin was editing audio for a 2005 music re-issue (Eric Draven, aren't we all?) and teaching Jacorva.
Every coordinator has their own approach. Besides managing time, safety, and skills, and knowing that there is no promise that you'll have four weeks or four minutes to create a scene, he always emphasized character energy. If the character is solid, even if the skills are modest, the spirit of the character will move the body. The Blockbuster Action List Award was for a hip-hop film and most of the cast were rappers and non-martial artists.
Jamisin said he would love to do more conventions and hope to sign autographs in some of the same shows as Taimak, Tony, and Danny. The best thing about the conventions are the people; the organizers, cosplayers, fans, guests, etc. Though he is only one of many who worked on each Resident Evil game and film, he realized that the face-scan models are, to some, the closest thing to the real-life character. Biohazard is a dark world and Leon displays a more brooding, honest and emotionally battered strength than many fictional heroes. This makes him the guy that a percentage of us identify with. So, along with fans of the games and films, I know I get to say hi to some kindred spirits.
The other half of his visitors are My Chemical Romance fans meeting the "real life" groom from the band's most beloved storyline. For a popular band, Gerard painted a vivid world of dire loss and soaring emotion. He chose Jaime and Jamisin to portray his characters and even remembered his old casting photos when he had met him years later. He is a comic creator himself, so it is appropriate on so many levels for Jamisin to meet MCR fans at comic cons. The best thing is that he appeared as the demolition groom 2-3 years before his first appearance as Leon, and he is a couple years younger than Leon during the Raccoon City incident. The two characters are not mutually exclusive. He identifies with both characters.
I highly recommend following Jamisin, as he's a very talented martial artist and actor. You can follow him at:
JAMISIN.com
imdb.me/JAMISIN
JACORVA.org
JAMISIN.wordpress.com
Follow him on instagram
@JMSNTV