WKI Magazine Entertainment Article #8
Omari Newton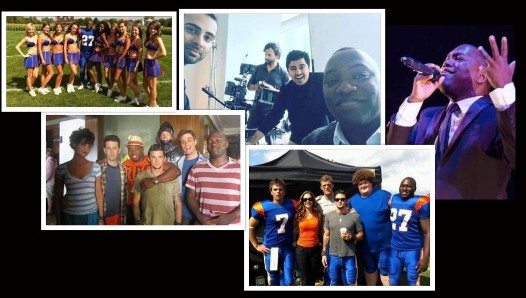 I've recently had the privilege of interviewing Montreal born artist Omari Newton. Omari is a professional actor, writer, comedian, slam poet, and MC whose work can be found on television, film, stage and radio. He is currently a city of Vancouver funded artist in residence (Playwright) with Urban Ink Productions.
His stage work in Quebec has earned him several favorable reviews and awards. Some career highlights include a Best Supporting Actor nomination for his work in Centaur Theatre's production of Joe Penhall's Blue/Orange as Christopher. The play also went on to win best English Language Production. He is currently in post production of a short film called The Shipmentwhich will be released on May 5th.
You may best remember him for his role as Defensive Back Larry Summers in the hit TV series Blue Mountain State about a fictional university called Blue Mountain State and its football team. Larry was a recurring character as a strong and silent best friend to one of the main characters, Senior Linebacker and Team Captain Thad Castle. Larry is often seen following Thad around and was shown to do anything to win and often getting himself into mischievous and outlandish situations to try and help his team; he even had a love scene with legendary actress Cloris Leachman. He later reprised his role as Larry Summers in the 2016 film Blue Mountain State: The Rise of Thadland, where he was the assistant coach of the team.
Omari has also had a lot of success in voice acting, having voiced the popular superhero character Black Panther in a series of animated Marvel cartoons for several episodes. He has also voiced Chief Wazari in the 2017 cartoon series Tarzan and Jane,and the character Jefferson Smith in the popular cartoon series Max Steel.
He has also appeared in several Hallmark movies, including Darrow & Darrow as Detective Yancy alongside Kimberly Williams-Paisley, Tom Cavanagh and Wendie Malick, and Every Christmas Has a Story as Sheriff Brody Omar alongside Colin Ferguson, Lori Loughlin, and Willie Aames. He has also made numerous guest appearances on popular TV shows, including The X-Files, Supernatural, Shattered, V, Geronimo Stilton, Sophie, 15/Love, Vampire High, and the Netflix TV series Travelers.
Other than being a talented artist and actor, Omari Newton helps his twin sister, Akilah Newton, who created a non-profit project called Overture with the Arts (OWTA). It was created to provide access to the arts for underprivileged youth. In the role created by his sister, he is a performer for students in schools across the country, telling of the experiences of being black in Canadian Society and bringing performance art training to underprivileged youth. It started in the Montreal Community then grew across Canada. Omari uses his personal experience and his training to inspire youth to try and make a positive impact in their lives, inspiring others to stand up for the things they believe in and to try and change the world for the better.
I truly believe that Omari will use his platform as a well-known and respected artist and change the lives of youth all over the world. If the world had more famous people using their resources and time to help others, I believe this world would be a much better place.