WKI Magazine Entertainment Article #12
Experiences with Jamisin Matthews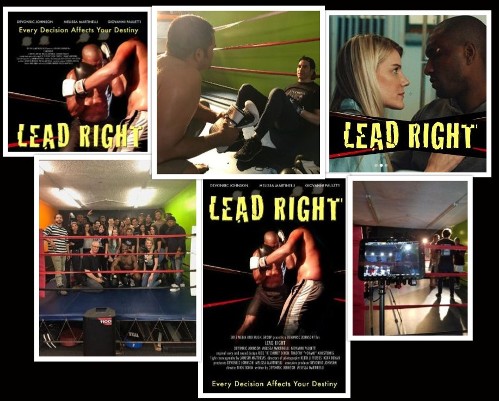 Me: Please tell me what it was like working behind the scenes with a great Athletes and actors like Devonric Johnson and Sam Hoger tell me of some of your experiences.
Jamisin: It is great to work with actors who understand the shorthand, aesthetic, and rhythm of combat sports. That, mixed with the tried-and-true body mechanics and methodology of Hong Kong action design, enables me to really create. Sam Hoger is a recently retired UFC fighter and Devonric Johnson (a division 1 athlete), known for his work on Ray Donavon and American Exit, performed phenomenally. Often, when I fight coordinate budget-conscious films, the actor will not have a stunt double; so, inherent skill level is important.
I met offsite with Devonric (the lead and writer of Lead Right) to go over the standard Sammo Hung/JC stunts choreography framework. Even though this is an underground MMA/Boxing fight, the relationship between the moving bodies and the camera itself is still based on these fundamentals.
As Dustin Day, Devonric fights in an orthodox super-low relatively squared-up boxing stance - a Jon Jones physique channeling a Mike Tyson vibe. Being a good actor, Devonric pulled off the small moments and beats I wove into the choreography. If you've read my writings, you know I believe the moments and reactions between the moves are super important.
For Sam's character, I created a unique boxer who destroys in a matter-of-fact manner. He uses a "Dracula" winged guard and a bladed stance. Literally and figuratively edgy. The lead elbow projects so far forward and high that it protects the chin as the "rear" glove shields the ribs. The elbows are flicked to intercept Devonric's punches and instill damage at the same time. 52 hands-style flurries flutter and "jabs" are limited to lead-hand hinged hammer fists. Sam will flagrantly throw an illegal Jackson-Wink style oblique kick and spin forearm out of a clinch break. We worked with leaps and even a low jump side kick, but the oblique worked best for this situation.
(attached photos by Andrea Veneziano and Shae Davie) Instagram videos by Jamisin Matthews , will make more.
jamisin on Instagram: "Deceptively basic with offbeat bonuses. featuring @devonricjohnson @samehoger . . . . . #martialarts #stunt #mma #kungfu #ufc…"
https://www.instagram.com/p/Bj0txK8nXJ_/

jamisin on Instagram: "Deceptively basi...
jamisin on Instagram: "Specific pallettes for each action actor inform the character and vice versa. These guys get it @samehoger @devonricjohnson Here we have…"

jamisin on Instagram: "Specific pallett...
https://www.instagram.com/p/BjocH5OHIKq/

JAMISIN.com
imdb.me/JAMISIN
JACORVA.org
JAMISIN.wordpress.com
follow me on instagram @JMSNTV